Product
Indications
Features & Benefits
Ordering Information
Styles
Lower Limb Styles
Lower Limb Options
Upper Limb Styles
Upper Limb Options
Patient
Clinical
Options
Application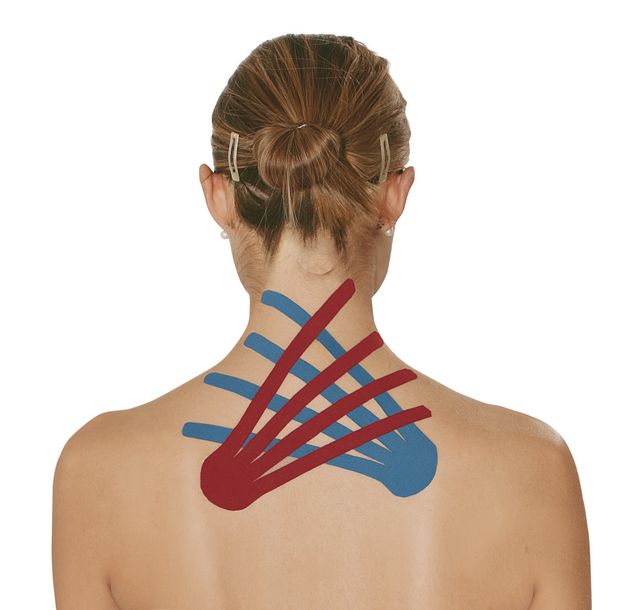 Elastic Kinesiology Tape
Leukotape K is an elastic kinesiology tape which has been used successfully for many years to relieve pain, treat swelling and discomfort and improve function for patients in daily practice, in the hospital setting and sporting communities. Strength, coordination and proprioception can be improved by taping with Leukotape K.
Leukotape K is constructed from a highly elastic cotton substrate coated with a wavelike pattern of adhesive which works with the skin's natural elasticity. The tape is applied using specific techniques, whereby tape is applied over and around muscles to give support, without affecting circulation or range of motion. In this way Leukotape K promotes the body's own healing process whilst allowing complete freedom of movement.
Taping with Leukotape K can achieve pain reduction, regulation of tissue tone, improvement of innervation, improved lymph drainage, improved blood circulation, passive support (e.g. ligaments) and mechanical correction.
Skin: Greater regeneration for small skin defects (e.g. small lacerated wounds or abrasions) with suitable pre-treatment
Connective tissue/ fascia: Changes in tone, restrictions
Joints: Ligament injuries, instability, hypermobility, arthritis, various painful conditions, swelling
Muscles: Muscle injuries (strains, torn fibres, atrophy, changes in tone)
Lymphatic system: Lymphatic drainage disorders
Nerve tissue: Nerve irritation syndromes
Blood vessels: Impairment of blood flow
Fascia: Dysfunctions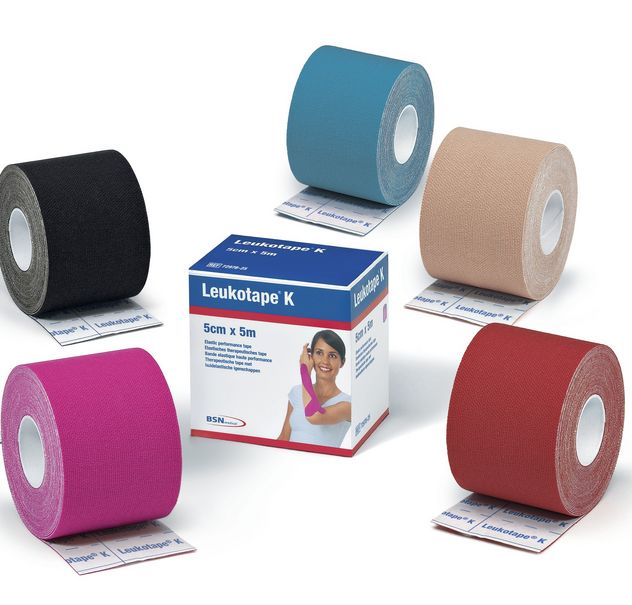 Leukotape K is easy to use and patient friendly
Wavelike adhesive pattern generates the therapeutic effect
Protective backing paper for control of extension and ease of handling
Easy to cut, leaving no adhesive residue on scissors
Quick and easy to apply
Stretches to work with the skin's natural elasticity
Breathable fabric, permeable to air and water vapour
Good initial adhesion and reliable long term adhesion, durable for up to one week's use
Water-repellent, to allow for sports and showering
Edges do not fray
Easy to remove, leaving no adhesive residue after removal
Low allergy, latex free
| | | | | | |
| --- | --- | --- | --- | --- | --- |
| Code | Colour | Width | Roll Length | Pack Qty | Case Qty |
| 72978-10 | Beige | 2.5cm | 5m | 1 x 5 | 10 x 5 |
| 72978-11 | Beige | 5cm | 5m | 1 x 5 | 10 x 5 |
| 72978-12 | Beige | 7.5cm | 5m | 1 x 5 | 8 x 5 |
| 72978-15 | Red | 2.5cm | 5m | 1 x 5 | 10 x 5 |
| 72978-16 | Red | 5cm | 5m | 1 x 5 | 10 x 5 |
| 72978-17 | Red | 7.5cm | 5m | 1 x 5 | 8 x 5 |
| 72978-20 | Blue | 2.5cm | 5m | 1 x 5 | 10 x 5 |
| 72978-21 | Blue | 5cm | 5m | 1 x 5 | 10 x 5 |
| 72978-22 | Blue | 7.5cm | 5m | 1 x 5 | 8 x 5 |
| 72978-23 | Black | 5cm | 5m | 1 x 5 | 10 x 5 |
| 72978-25 | Pink | 5cm | 5m | 1 x 5 | 10 x 5 |