Product
Indications
Features & Benefits
Ordering Information
Styles
Lower Limb Styles
Lower Limb Options
Upper Limb Styles
Upper Limb Options
Patient
Clinical
Options
Application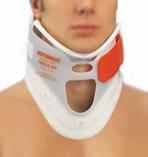 Extrication collar
A simple to use, lightweight, padded support device used to help immobilise the cervical vertebrace. The collar completely encircles the neck and provides rigid support for the head, chin and base of the skull.
Acute and emergency care
Short term use after whiplash injury
Acute and chronic cervical syndrome
Spondylarthritis
Cervical strains
Post-operative support
Actimove Vertebrace can be used in conjunction with a standard backboard for emergency use in suspected sinal cord injuries.
One piece construction which is both light and padded, with integrated flip up chin support
Reinforced back which provides firm cervical support
Open structure to allow pulse measurement and tracheotomy access
Simple to use, colour coded sizing system to ensure correct fitting
Can be stacked flat for easy storage
X-ray translucent
| | | | | |
| --- | --- | --- | --- | --- |
| Code | Size | Pack Qty | Dimensions | NHS SC Code |
| 79300-00 | Paediatric short | 1 x 1 collar | Height: 6cm, Length: 43cm | GQB931 |
| 79305-00 | Paediatric | 1 x 1 collar | Height: 9cm Length: 45cm | GQB926 |
| 79301-00 | Extra short | 1 x 1 collar | Height: 7cm Length: 57cm | GQB927 |
| 79302-00 | Short | 1 x 1 collar | Height: 9cm Length: 57cm | GQB928 |
| 79303-00 | Regular | 1 x 1 collar | Height:11cm Length: 57cm | GQB929 |
| 79304-00 | Tall | 1 x 1 collar | Height: 14cm Length: 57cm | GQB936 |