Fragile skin needs special solutions
Fixation and wound dressings are an integral part of the daily routine in medical care. However, the application of the dressings and their removal can have a negative effect on the skin, with the adhesive playing a key role. This is especially true for fragile and compromised skin to help protect skin integrity.
Which patient groups are particularly affected?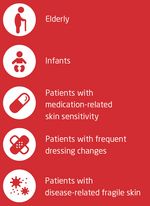 Skin sensitive solutions for post-operative dressing or device fixation
At Leukoplast, we believe that wound care should be tailored to the patient's needs. Leukoplast skin sensitive products offer the right solution for patients with fragile and compromised skin:
Elderly patients, an ever-growing group who frequently suffer from fragile skin
Patients whose skin is compromised as a result of disease, medication or long-term treatment
Infants whose skin is not yet fully developed and is therefore extra sensitive
Indications
Fixation of primary wound care dressing
Post-operative wound coverage
Securement of devices
Catheters
Tubes
Probes
Drainage