SSI: finding a simple solution for a complex problem
If you missed our SSI Facebook Live educational session (or any of our other award winning live sessions) – you can now watch AND download your CPD certificate for doing so.
Do not miss out, catch up and listen to Josh Totty, Surgical Trainee discuss the complexities of SSI to support:
Understanding of why Surgical Site Infection (SSI) is a concern and the impact not only on patients but the NHS
Recognising how and why SSIs can develop
Preventative strategies to help reduce the burden of SSIs
Evidence-based practice to implement change to reduce SSI using post-operative film dressings
Simply watch the video
Once you have watched the video you simply request your downloadable certificate by completing the 'Get your certificate' pop up box. This can help you to track your continual professional development and helps meet the requirements for your revalidation.
Click here to watch.
Get in touch
For further support and information on SSI, see how the Leukomed Sorbact team can help by contacting Concierge.service@essity.com to find your local Essity Account Manager who can support you with detailed product information and published evidence for SSI prevention.
Facebook Live Series Receives Double Digital Awards
Essity's Facebook Live series in collaboration with the Journal of Community Nursing and Mole Digital has won a gold and silver award in the Pharmaceutical Marketing Society Digital Awards 2019. The team launched the Facebook Live series only 12 months ago becoming the first in the industry to trial providing education to health care professionals digitally via social media.​
One year on, the reach and impact of the series has grown in success culminating in the double award win.
The two award categories were:
Gold: HCP Education Training and Support
Silver: Congress, meetings and events
Speaking about the award win, Julie Cummings from Essity said: "Facebook Live is a real team effort and it's down to the dedication of each and every person across many departments internally and externally that the audience engagement has been so overwhelming to lead us to Gold."
Healthcare Professional Education, Training and Support
Essity / JCN / Mole
Radical Departures Ltd
M3
Open Health Medical Communications
GlaxoSmithKline
Congress, Meetings and Events:
Synergy Health Care
Envision Pharmagroup
Lime
Essity / JCN / Mole
DDB Remedy
The team will be delivering further broadcasts this year, and if you have missed out on joining us before today, you still have an opportunity to be part of the audience.
BSN medical meets the high standards as set out by the International Organisation for Standardisation (ISO)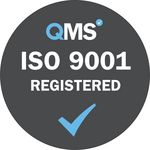 ISO 9001 is recognised worldwide as the international benchmark for quality within an organisation. BSN medical meets the high standards set out by the International Organisation for Standardisation (ISO) and is proud to hold ISO 9001: 2015 Quality Management System certification.
BSN medical is able to demonstrate to customers and suppliers that their systems meet the high standards set out by ISO, supporting and demonstrating their dedication to meeting the needs of customers.
Commercial Director of BSN medical Limited, Paul Goodman, said: "Our commitment to providing quality products and service levels is an integral part of BSN medical's values. We always strive to maintain high levels of customer satisfaction and achieving ISO: 9001 certification is evidence of this."
Cutimed® Sorbion® Learning Zone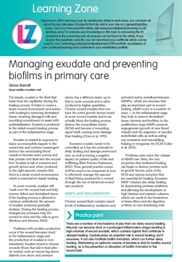 This year, we've helped ease the responsibility of re-validation for you with our new tools aimed at supporting your continuous professional development (CPD). We joined forces with the Journal of Community Nursing, and the General Practice Nurse Journal, to bring you the Cutimed Sorbion Learning Zone entitled Managing exudate and preventing biofilm in primary care, written by Simon Barrett, Tissue Viability Nurse Specialist, Humber NHS Foundation Trust. Once you have read the online article and updated your understanding on exudate management and dressing choice, take the online multiple-choice test to receive a certificate and contribute to your CPD hours. It's an educational, easy and simple way to start fulfilling your revalidation requirements. Click here to visit the GPN Learning Zone module and start reading.