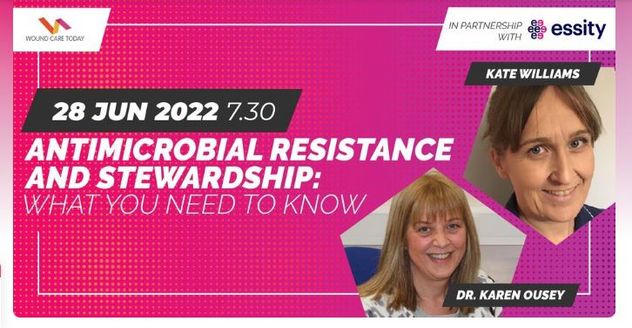 Facebook Live 2022 Broadcast
28th June - 7.30pm
'Antimicrobial Resistance and Stewardship: what you need to know'
This event will be presented by Dr Karen Ousey (Professor and Director for the Institute of Skin Integrity and Infection Prevention, University of Huddersfield) and Kate Williams RN (Senior Lecturer, Tissue Viability).
This event is focused on providing an understanding around how we can reduce the potential impact of AMR (antimicrobial resistance) within clinical practice. Karen and Kate will be covering everything we all need to know about AMS/AMR. (antimicrobial stewardship /antimicrobial resistance).
There will also be discussion around the Leeds Wound Infection Framework, which was developed by Leeds Community Healthcare Trust to standardise practice relating to the early recognition and management of wound infection. Due to its ease of supply and its safety for use across all age groups and patient types,Cutimed® Sorbact® was selected as the first line dressing for the Framework.Its unique mode of action also means that development of bacterial resistance to the Cutimed® Sorbact® is not expected.
AMS/AMR is a hot topic and important because:
'The United Nations and other international agencies estimate that if no action is taken, antimicrobial drug resistant diseases could cause 10 million deaths each year by 2050, costing £66 trillion.'
(Interagency Coordinating Group on Antimicrobial Resistance, 2019).