Product
Indications
Features & Benefits
Ordering Information
Styles
Lower Limb Styles
Lower Limb Options
Upper Limb Styles
Upper Limb Options
Patient
Clinical
Options
Application
2-in-1 compression system for managing venous ulcers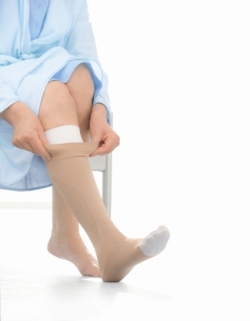 JOBST UlcerCARE is recommended for the management of venous ulcers after oedema reduction and for helping prevent the recurrence of such ulcers. The system comprises two components (a medical stocking with optional zipper and a compression liner) which together provide a nominal compression of 40mmHg at the ankle with decreasing gradient pressure from distal to proximal.
Click here to find out how we support 'Looking After Legs' awareness, education and solutions.
Product features
Ideal solution for patients capable of changing wound dressings
Cost effective
Minimizes nursing care time per patient visit
Allows for improved personal hygiene
Functional with normal footwear and clothing
Zipper allows for easier donning
Zipper's pull tab accommodates better grasp
Benefits of JOBST UlcerCARE ready-to-wear
Available in 7 ready-to-wear sizes to accommodate a wide variety of patient requirements whilst facilitating easy stock control and storage
Outer stocking available with or without zipper and in choice of beige or black
Liner contains silk for healthy skin, easy donning and patient concordance
Benefits of JOBST UlcerCARE custom-fit
Each garment is custom-fit to ensure precise fit and compression
Seamed flat-knitting process allows for individual fit for all leg shapes and sizes, including abnormally shaped legs
Straight and slant open toe options
Choice of lateral and medial zipper positions
Ordering information
To view our JOBST UlcerCARE ordering information for both ready-to-wear and custom-fit, please click on the link below:
JOBST UlcerCARE Sales Aid
For assistance contact Customer Services on 0845 122 3600 or email compression.uk@jobst.com.
For further ordering information, please contact Customer Services on 0845 122 3600 or email compression.uk@jobst.com. To support your clinical related questions please call The Compression Helpline on 0800 389 8424.
Disclaimer: Please note that these order forms are supplied for use by healthcare professionals who have been specifically trained to measure for JOBST garments. BSN medical takes no responsibility for any measurement inaccuracies, so please check thoroughly before submitting your order.
This article is distributed under the terms of the Creative Commons Attribution 4.0 International License (http://creativecommons.org/licenses/by/4.0/), which permits unrestricted use, distribution, and reproduction in any medium, provided you give appropriate credit to the original author(s) and the source, provide a link to the Creative Commons license, and indicate if changes were made. The Creative Commons Public Domain Dedication waiver (http://creativecommons.org/publicdomain/zero/1.0/) applies to the data made available in this article, unless otherwise stated.