Product
Indications
Features & Benefits
Ordering Information
Styles
Lower Limb Styles
Lower Limb Options
Upper Limb Styles
Upper Limb Options
Patient
Clinical
Options
Application
Transparent film dressing with absorbent pad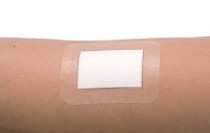 Leukomed T plus is a sterile water and bacteria proof transparent dressing pad.
Click here to view the product literature.
To provide cover for minor to medium sized wounds such as:

Post-operative
Traumatic
Superficial cuts
Lacerations
Minor burns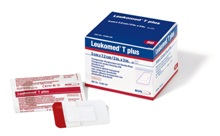 The transparent polyurethane film of Leukomed T plus is waterproof and bacteria-proof providing effective protection from water and bacteria
Leukomed T plus dressings are permeable to water vapour and oxygen reducing the risk of maceration
The dressing can stay in place for several days protecting against friction
The dressings have a reliable initial and permanent adhesion. Rounded edges prevent rucking and a secure fit
The red strip technology allows quick dressing changes making it easy to use
Patient comfort: Leukomed T plus dressings allow patients to shower at an early stage, or to receive hydrotherapy.

Red Strip Technology: Leukomed T plus dressings have a unique, red strip release mechanism allowing quick, simple, one-handed application.
| | | | | |
| --- | --- | --- | --- | --- |
| Code | Size | Pack Qty | PIP Code | NHS SC Code *Welsh Health Supplies |
| 72382-00 | 7.2cm x 5cm | 1 x 50 | 335-6037 | ELW320/EIA240* |
| 72382-01 | 8cm x 10cm | 1 x 50 | 335-6003 | ELW324/EIA2430* |
| 72382-02 | 8cm x 15cm | 1 x 50 | 335-6011 | ELW261/EIA245* |
| 72382-03 | 10cm x 25cm | 1 x 50 | 335-6045 | ELW328/EIA247* |
| 72382-04 | 10cm x 30cm | 1 x 50 | 335-6060 | ELW330/EIA249* |
| 72382-05 | 10cm x 35cm | 1 x 50 | 335-6086 | ELW331/EIA251* |
| 72382-14 | 10cm x 20cm | 1 x 50 | 340-3516 | ELW326/EIA0247* |