Product
Indications
Features & Benefits
Ordering Information
Styles
Lower Limb Styles
Lower Limb Options
Upper Limb Styles
Upper Limb Options
Patient
Clinical
Options
Application
Clearly controlling the risk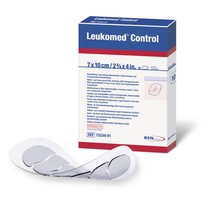 Continuous wound inspection plays an important role in fighting surgical site infections. The Leukoplast® experts have combined the highly innovative hydropolymer technology with the most protective and transparent of the Leukoplast film. Thanks to the transparency of both the film and hydropolymer pad of Leukomed Control, wound progression inspection and early detection of infection is easily possible - without dressing changes.
Click here to view the product literature.
Leukomed Control is indicated for dry and low exuding acute wounds such as surgical incisions, superficial partial-thickness burns, donor sites, lacerations and abrasions.
Recommendation: It is well suited for the control of wounds on patients with an increased risk of infection.
Transparent matt surface with low friction
Dressing is hardly noticeable on the skin
Highly conformable, enhancing patient comfort
Blended edges prevent roll up of the edges
Sterile barrier
Protects against water, bacteria and contaminants
Can help to reduce the risk of surgical site infection
Highly breathable and conforming
Prevents skin maceration and tension blisters
Readily adapts to the skin's flexion and oedema through its reliable, skin-friendly adhesive border
Excellent adhesion
Provides gentle, yet strong fixation
High patient compliance
Up to 7 day wear time
| | | | | |
| --- | --- | --- | --- | --- |
| Code | Size | Pad Size | Pack Qty | NHS SC Code |
| 73230-00 | 5cm x 7cm | 2cm x 4cm | 1 x 10 | ELW836 |
| 73230-01 | 7cm x 10cm | 4cm x 7cm | 1 x 10 | ELW837 |
| 73230-02 | 8cm x 15cm | 4.5cm x 11.5cm | 1 x 10 | ELW838 |
| 73230-03 | 10cm x 24cm | 6cm x 20cm | 1 x 5 | ELW840 |
| 73230-05 | 10 x 35cm | 6cm x 31cm | 1 x 5 | ELW841 |