Product
Indications
Features & Benefits
Ordering Information
Styles
Lower Limb Styles
Lower Limb Options
Upper Limb Styles
Upper Limb Options
Patient
Clinical
Options
Application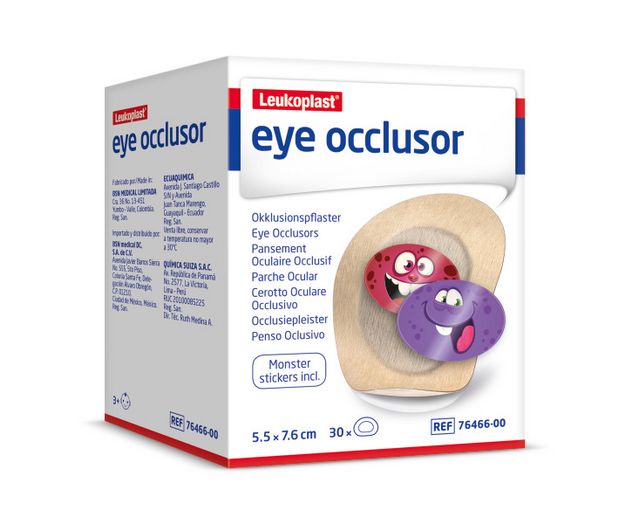 Eye occlusor
The prevention and treatment of strabismus and amblyopia is challenging, often in very young patients. An eye occlusion patch should reliably keep out the light and meets individual patient needs.

Impermeable to light
Does not hinder the movement of the eye
Well tolerated even by sensitive skin
Comfortable to wear, with or without wearing glasses
Provides reliable adhesion
Maintains skin integrity
Can be worn on the left or right eye
Monstor stickers provided to be applied to each dressing
Leukoplast eye occlusor is intended for the prophylactic or therapeutic use of strabismus or amblyopia in children.
| | | |
| --- | --- | --- |
| Code | Size | Pack Qty |
| 76467-00 | Junior 4.7cm x 6.7cm | 1 x 30 |
| 76466-00 | Regular 5.5cm x 7.6cm | 1 x 30 |
Recommended size guide:
For infants up to 3 years: Junior 4.7cm x 6.7cm
For children 3 years or over: Regular 5.5cm x 7.6cm