Product
Indications
Features & Benefits
Ordering Information
Styles
Lower Limb Styles
Lower Limb Options
Upper Limb Styles
Upper Limb Options
Patient
Clinical
Options
Application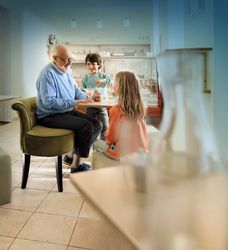 Provide best-in-class therapy solutions for lymphoedema
JOBST JoViPads have been developed by the well-known lymphoedema specialist and former cancer patient JoAnn Rovig, founder of JOVIPAK. With the integration of JOBST JoViPads into the BSN medical portfolio there are now more effective treatment options and resources to help patient, lead their lives as independently as possible.
The irregular foam chip padding in JOBST JoViPads soften fibrotic tissues by alternating high and low pressure, creating a massage effect to help reduce oedema as well as addressing and preventing fibrosis. They are very useful in treatment of breast, chest wall, genital and head & neck lymphoedema.
A range of JOBST JoviPads used to address chest and breast oedema, can be found on the Bellisse product page click here.
Continuous flow channelling technology
Supports lymph fluid drainage
Made of organic cotton and spandex with Polartec® Power Dry® fabric, a special microfibre yarn and unique weave helps to disperse moisture and heat across a wide surface area*
Helps quick drying of fabric
Blended foam
The varying, prolonged pressure on fibrotic tissue may improve patient outcomes
Helps create multiple pressure points throughout the garment
Smooth, highly durable yarns
For comfortable wearing
Help move moisture away from the skin
*Genital pads only. Polartec® and Power Dry® are a registered trademarks of Polartec®, LLC.
Measuring / Ordering information
For an order form detailing the measurements required for JOBST JoviPads, please click on the appropriate link below:
JOBST JoviPads Head, Neck, Chin and Genital Order Form
JOBST JoviPads Multi-Purpose Pads and PitPaks Order Form
Disclaimer: Please note that these order forms are supplied for use by healthcare professionals who have been specifically trained and are qualified to measure for compression garments. If you have any queries relating to either measuring or garment style, please do not hesitate to contact Customer Services (0845 122 3600) or the Lymphoedema Helpline (0800 389 8424).
The images below show pad styles for the head and neck.
Below from left to right: chin strap standard, chin strap extended, universal pad, peri-auricular neck-pad, eye pads