Product
Indications
Features & Benefits
Ordering Information
Styles
Lower Limb Styles
Lower Limb Options
Upper Limb Styles
Upper Limb Options
Patient
Clinical
Options
Application
Innovative night compression solution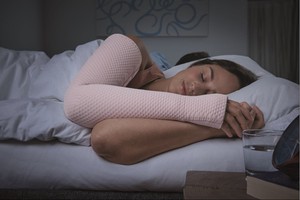 JOBST® Relax, for mild to moderate lymphoedema, is an effective and innovative night-time compression garment that offers more than just a good night's sleep.
JOBST Relax is designed to complement day time compression garments and better suit patient's needs and lifestyle. The slim-line, flexible and lightweight design makes JOBST Relax the ideal garment for patients when relaxing at home and during the night. JOBST Relax has everything your patient's need for a good night's sleep.
Monofilament spacer layer
Provides cushioning
Comfortable to wear
Adapts to most sleeping positions
Textured surface
Creates a micro-massage effect
Simulation of lymph flow
Luxurious feel
More aesthetically pleasing
Custom-fit, flat-knit technology
Provides consistent gradient compression
Constriction free sleep
Helps prevent swelling at night
Anatomically shaped
Stays in place
Aids donning and doffing
Coolmax® yarns and advanced knitting technique
Offers increased breathability and moisture management
Cooling effect
Comfortable feeling on the skin
Improved fit and drying time
Easy to care for
Low-profile material
Slimline, lightweight and flexible material
Encourages air flow for higher wearing comfort
Can be folded to fit within satin bag
Modern design
JOBST Relax compression garments are backed up by our 6-month guarantee against garment failure due to manufacturing or material defect.
Coolmax® is a registered trademark of INVISTA.

For an order form detailing the measurements required for a JOBST Relax garment, please click below:
For further ordering information, please contact Customer Services on 0845 122 3600 or email compression.uk@jobst.com. To support your clinical related questions please call The Compression Helpline on 0800 389 8424.
Disclaimer: Please note that these order forms are supplied for use by healthcare professionals who have been specifically trained to measure for JOBST garments. BSN medical takes no responsibility for any measurement inaccuracies, so please check thoroughly before submitting your order.
Above from left to right: armsleeve with gauntlet, armsleeve
Note: bias top is standard
Compression class:
Two colour options:

Two colour options.

Above from left to right: knee high, thigh high
Note: open toe, straight foot garments only
Compression classes:
CCL 1 (15-20mmHg)
CCL 2 (20-30mmHg)