JOBST® Elvarex® Ready-to-Wear
Product
Indications
Features & Benefits
Ordering Information
Styles
Lower Limb Styles
Lower Limb Options
Upper Limb Styles
Upper Limb Options
Patient
Clinical
Options
Application
Ready-to-wear flat-knit compression garments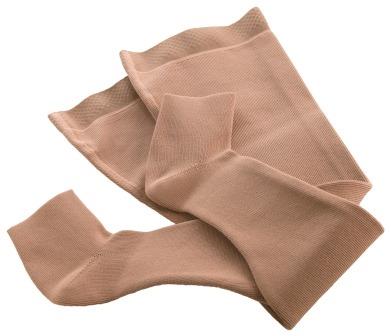 JOBST Elvarex ready-to-wear garments are available in a number of different styles for both upper and lower limbs. A high ratio of working pressure to resting pressure guarantees effective mobilisation of oedema and improves lymph drainage. Each flat-knit garment provides the correct compression gradient throughout the limb, without cutting in or causing further skin damage.
Open, wide-mesh weave
Garment is breathable and allows air circulation
Special knit of fabric exerts a micro-massage effect on the skin
Aids lymph drainage during movement
Compression gradient decreases up the limb
Correct compression is guaranteed throughout the garment
Fabric does not work into skin folds
Garments are comfortable for the patient to wear without risk of further skin damage
The JOBST Elvarex ready-to-wear product range includes the following styles:
Knee-highs
Thigh-highs
Thigh-highs with waist attachment (chaps)
Armsleeve with bias top
Armsleeve with bra loop or body strap
Glove or gauntlet
Ordering information
For full details, including measuring information, please refer to the Lymphology Price List or contact Customer Services on 0845 122 3600 or email compression.uk@jobst.com.
Measuring information
To view our JOBST Elvarex Ready-to-Wear measuring poster, please click here.
For further ordering information, please contact Customer Services on 0845 122 3600 or email compression.uk@jobst.com. To support your clinical related questions please call The Compression Helpline on 0800 389 8424.
Disclaimer: Please note that these order forms are supplied for use by healthcare professionals who have been specifically trained to measure for JOBST garments. BSN medical takes no responsibility for any measurement inaccuracies, so please check thoroughly before submitting your order.