Product
Indications
Features & Benefits
Ordering Information
Styles
Lower Limb Styles
Lower Limb Options
Upper Limb Styles
Upper Limb Options
Patient
Clinical
Options
Application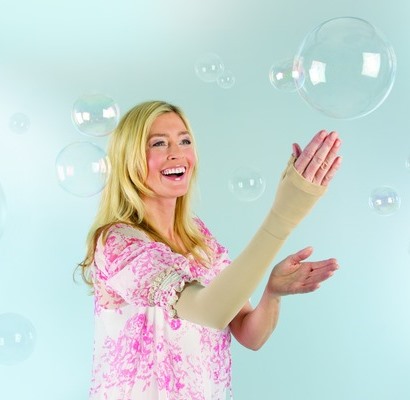 Comfortable and effective upper limb garments
The JOBST Bella Lite circular-knit, seamless garments are designed to treat the symptoms of mild to moderate lymphoedema. These comfortable garments can be worn together, separately or as a combined armsleeve to help maintain the limb size of a lymphoedema patient. They provide graduated compression and are available in two compression classes and a range of sizes. JOBST Bella Lite garments are covered by a 6 month guarantee against garment failure due to manufacturing or material defect.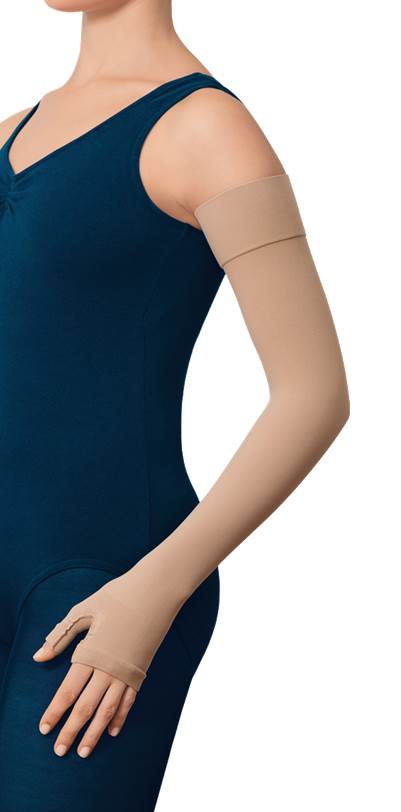 Graduated compression proven to manage lymphoedema
Garments designed to accurately provide compression levels of 15-20mmHg (class 1) and 20-30mmHg (class 2)
Three sizes and two armsleeve lengths to fit a wide range of arm and hand measurements
Only 2-3 measurements required per fitting
Soft and air permeable
Easy to put on and comfortable to wear
Reduced compression at wrist provides an effective and comfortable fit when armsleeve and gauntlet are worn together
Durable and machine washable
Armsleeve and combined armsleeve available with a knitted or dotted silicone band
Latex-free formulation ensures reduced risk of patient sensitivity or skin reaction
Beige and black (CCL 2 gauntlet and armsleeve in long only)
Ordering Information
Click here for the Prescription Request Form.
Measuring Information
Click here for the order codes and size chart.
For further ordering information, please contact Customer Services on 0845 122 3600 or email compression.uk@jobst.com. To support your clinical related questions please call The Compression Helpline on 0800 389 8424.
Disclaimer: Please note that these order forms are supplied for use by healthcare professionals who have been specifically trained to measure for JOBST garments. BSN medical takes no responsibility for any measurement inaccuracies, so please check thoroughly before submitting your order.