Product
Indications
Features & Benefits
Ordering Information
Styles
Lower Limb Styles
Lower Limb Options
Upper Limb Styles
Upper Limb Options
Patient
Clinical
Options
Application
Feel supported, feel confident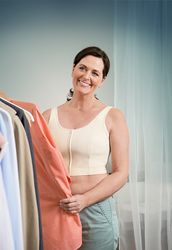 Bellisse is an innovative treatment approach for chest wall, breast oedema and / or fibrosis following breast cancer or surgery. Do not confuse this revolutionary "compression garment" with a mastectomy or post-operative bra. This is a medical compression garment that helps to reduce discomfort and provides gentle, even compression around the torso, facilitating drainage of excess lymphatic fluid from the breast and chest wall area. It is available in a large range of sizes and available in two colours, buff and black.
Bellisse can be worn day and night, is fully adjustable, and provides gentle compression with or without the addition of JOBST® JoViPads. A number of anatomically shaped pads are available and can be used in combination with Bellisse.
Click here to view the product literature.
The natural stretch cups have an inner pocket to accommodate the lateral pad or the chest-wall pocket pad
Compression promotes lymph drainage
Special Compressure Comfort inner support system provides circumferential compression
Secure front zipper with hooks and eyes to hold garment in place during zipping
For easy donning and doffing
Soft, non-roll lower band keeps garment from riding or rolling up
Soft on the skin
Smooth while sleeping
Unobtrusive under clothing
Highly adjustable with three position back closure with an optional Bellisse extender providing additional three rows of eye loops
Padded straps are adjustable
Comfortable to wear without shoulder pressure
Measuring / Ordering information
For an order form detailing the measurements required for Bellisse garments, please click on the form below:
For further ordering information, please contact Customer Services on 0845 122 3600 or email compression.uk@jobst.com. To support your clinical related questions please call The Compression Helpline on 0800 389 8424.
Disclaimer: Please note that these order forms are supplied for use by healthcare professionals who have been specifically trained to measure for JOBST garments. BSN medical takes no responsibility for any measurement inaccuracies, so please check thoroughly before submitting your order.
The images below show JOBST JoviPad options designed to use under the Bellisse.
Below from top left to right: cleavage pad, lateral pad, axilla pad, mini axilla pad, inframammary pad, serratus anterior pad, post-lumpectomy pad, unilateral post-mastectomy pad, double mastectomy pad, chest-wall pocket pad.