Cutimed® Sorbact® Hydroactive
Product
Indications
Features & Benefits
Ordering Information
Styles
Lower Limb Styles
Lower Limb Options
Upper Limb Styles
Upper Limb Options
Patient
Clinical
Options
Application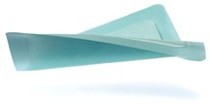 Infection management with responsive fluid handling
Cutimed Sorbact Hydroactive is a unique combination of a Cutimed Sorbact swab combined with a interactive hydropolymer matrix. They reduce bacterial load, debride the wound bed, plus absorb and lock wound exudate whilst maintaining a moist wound environment.
Cutimed Sorbact Hydroactive B
Cutimed Sobact Hydroactive B provides the same benefits as Cutimed Sorbact Hydroactive but with an atraumatic adhesive border.
All contaminated, colonised or infected shallow wounds with low to moderate and low viscosity exudate levels.
Arterial, venous, pressure and diabetic foot ulcers
Post-operative, dehisced wounds
Traumatic wounds
Supports infection management
Rapid and effective reduction of wound pathogens and fungi in a moist environment3
Responsive exudate management
Absorbs and locks exudate, even under compression2
Prevents maceration
Supports moist wound healing
Atraumatic, dressing change
Conforms to the wound bed
Cushions and protects the wound
No chemically active agents
No risk of allergic reactions to the Sorbact Technology-coated wound contact layer - can be used safely on all patients including babies and young children, and nursing mothers
Cytotoxicity is not an issue - Cutimed Sorbact Hydroactive binds and inactivates wound pathogens without releasing any chemically active substances into the wound bed which might impair wound healing
Dressings are safe1 to use for prolonged periods of time or prophyiatically4
References1) Haycocks S. et al: Use of a DACC-coated antimicrobial dressing in people with diabetes and a history of foot ulceration. Wounds UK (2011) 7: 11, 108-114. 2) Bruce Z. Using Cutimed Sorbact Hydroactive on chronic infected wounds. Wounds UK (2012) 8: 11. 3) Ljungh A., Yanagisawa N., Wadström T.: Using the principle of hydrophobic interaction to bind and remove wound bacteria. JWC (2006) 15/4: 175-180. 4) Crowther L. Reducing the incidence of wound infection in a high risk patient. Wounds UK poster 2013
| | | | | |
| --- | --- | --- | --- | --- |
| Code | Size (wound pad) | Pack Qty | PIP Code | NHS SC Code |
| Cutimed Sorbact Hydroactive | | | | |
| 72646-03 | 7cm x 8.5cm (5cm x 6.5cm) | 1 x 10 | 362-9961 | ELY347 |
| 72646-04 | 14cm x 14cm (10cm x 10cm) | 1 x 10 | 362-9979 | ELY348 |
| 72646-05 | 19cm x 19cm (15 x 15cm) | 1 x 10 | 362-9987 | ELY349 |
| 72646-06 | 24cm x 24cm (20cm x 20cm) | 1 x 5 | 362-9995 | ELY350 |
| 72646-07 | 14cm x 24cm (10cm x 20cm) | 1 x 10 | 363-0001 | ELY351 |
| Cutimed Sorbact Hydroactive B | | | | |
| 79933-00 | 7cm x 8.5cm (5cm x 6.5cm) | 1 x 10 | 374-5023 | ELY500 |
| 79933-02 | 14cm x 14cm (10cm x 10cm) | 1 x 10 | 374-5031 | ELY501 |
| 79933-03 | 19cm x 19cm (15cm x 15cm) | 1 x 10 | 374-5049 | ELY502 |
| 79933-04 | 14cm x 24cm (10cm x 20cm) | 1 x 10 | 374-5056 | ELY503 |