Product
Indications
Features & Benefits
Ordering Information
Styles
Lower Limb Styles
Lower Limb Options
Upper Limb Styles
Upper Limb Options
Patient
Clinical
Options
Application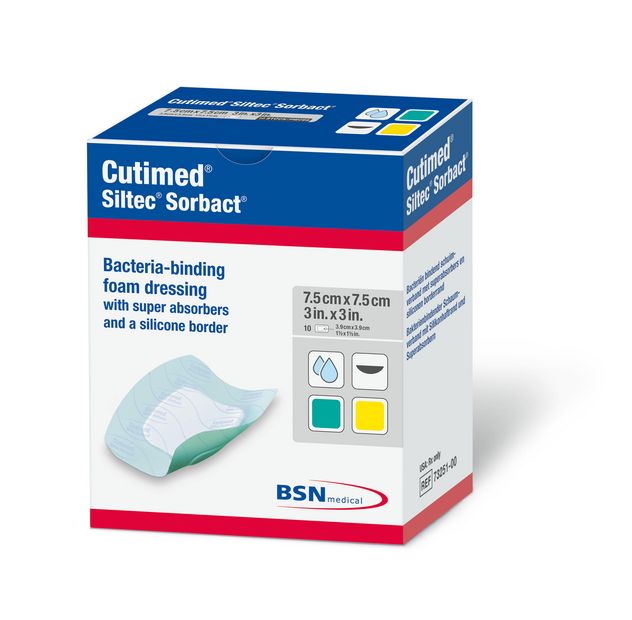 Combines safe infection control with effective exudate management
Cutimed Siltec Sorbact is the latest addition to the Cutimed Sorbact family, combining the infection management properties of Cutimed Sorbact with the fluid handling capabilities of Cutimed Siltec.
All contaminated, colonised or infected shallow wounds with moderate to high exudate levels, such as:
Chronic wounds e.g. arterial, venous, diabetic and pressure ulcers
Post-operative dehisced wounds
Traumatic wounds
Can also be used as a secondary dressing for infected deep or cavity wounds.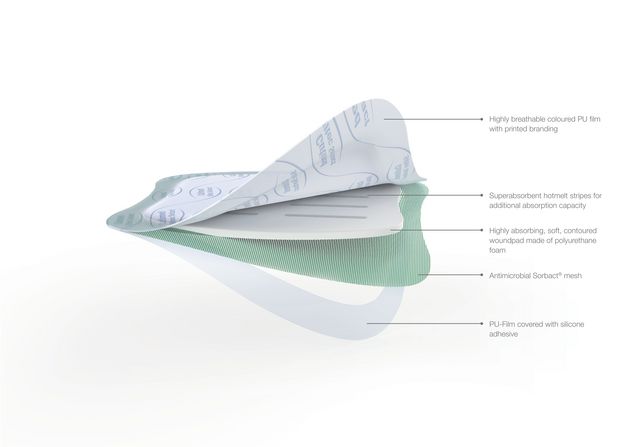 Sorbact Technology-coated wound contact layer
In a moist wound environment, bacteria and fungi are irreversibly bound to the dressings, kick starting the healing process, and reducing the microbial load
This unique mode of action allows the dressings to be safely used prophylactically and when other antimicrobial dressings are not indicated
No contraindications
Super-absorbent particles above the foam core
Retains exudate, even under compression helping to maintain healthy peri-wound skin
Fast wicking foam
Allows fast vertical absorption to help prevent maceration
High and dynamic MVTR
Maintains an optimal moist wound environment
Gentle adhering silicone border
Provides pain free and atraumatic dressing changes
| | | | | |
| --- | --- | --- | --- | --- |
| Code | Size (wound pad) | Pack Qty | PIP Code | NHS SC Code |
| 73251-00 | 7.5cm x 7.5cm (3.9cm x 3.9cm) | 1 x 10 | 377-3470 | ELY505 |
| 73251-01 | 12.5cm x 12.5cm (8.2cm x 8.2cm) | 1 x 10 | 377-3488 | ELY506 |
| 73251-02 | 15cm x 15cm (10cm x 10cm) | 1 x 10 | 377-3504 | ELY507 |
| 73251-03 | 17.5cm x 17.5cm (12.3cm x 12.3cm) | 1 x 5 | 377-3520 | ELY508 |
| 73251-04 | 22.5cm x 22.5cm (16.5cm x 16.5cm) | 1 x 5 | 377-3538 | ELY509 |
| 73251-05 | Sacrum 17.5cm x 17.5cm | 1 x 5 | 377-3546 | ELY510 |
| 73251-06 | Sacrum 23cm x 23cm | 1 x 5 | 377-3553 | ELY511 |