Cutimed® Sorbion® Sachet EXTRA
Product
Indications
Features & Benefits
Ordering Information
Styles
Lower Limb Styles
Lower Limb Options
Upper Limb Styles
Upper Limb Options
Patient
Clinical
Options
Application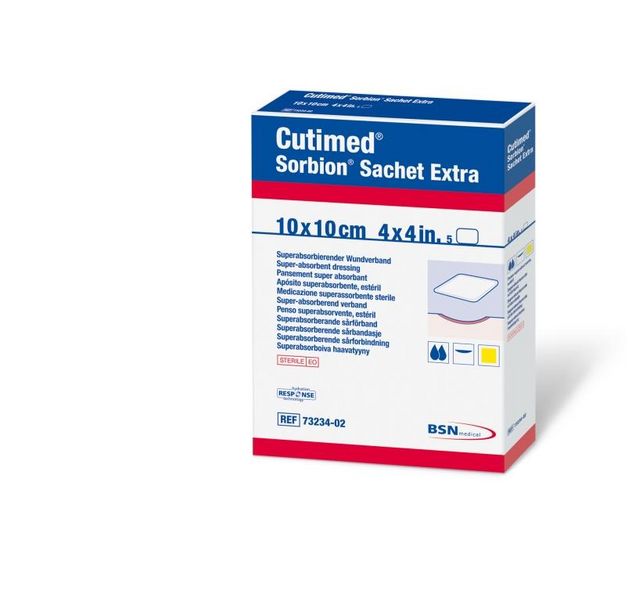 A Hydration Response Technology dressing which due to its design can actively absorb and bind large quantities of fluid even under compression. Detrimental agents which can be damaging to the wound bed are also locked away.
Demonstrating significantly superior absorbency performance compared to other dressings tested, Cutimed Sorbion Sachet EXTRA helps to offer a highly cost efficient solution for moderate to highly exuding wounds[Technical report, 2014]. It is hypoallergenic containing no sensitising ingredients, glues or adhesives.
Click here to view the product literature.
Venous / mixed aetiology leg ulcers
Pressure ulcers
Diabetic foot ulcers
Dehisced wounds
Drainage wounds
Discharging laparotomy wounds healing by secondary intention
Secreting wounds
Purulent fistulas to the skin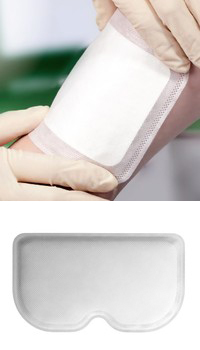 Hydration Response Technology dressing with ultrasonically sealed polypropylene fleece
Can be used as a primary dressing suitable for all moderate to highly exuding wounds
Offers soft debridement, easily removing slough from wounds
Hypoallergenic
Contains gel forming polymers to absorb and bind exudate and detrimental agents (e.g. mmps, bacteria etc)
Can be used under compression bandages and is suitable for diabetic and lymphoedema patients
Protects peri-wound skin by helping to prevent maceration and excoriation
Reduces bacterial load on the wound bed by drawing and binding free floating bacteria e.g. MRSA
Helps to manage odour due to reduction of bacterial burden
May remain in place for up to 4 days
sorbion sachet XL has been anatomically shaped to treat difficult to dress wounds with moderate to high exudate levels. The shape and size of sorbion sachet XL has been specially designed to treat moderate to highly exuding difficult-to-dress wounds on the following anatomical sites:
Lower leg (e.g. venous leg ulcers, mixed aetiology leg ulcers, lymphoedema
Lower part of the abdomen (for abdominal dehiscence)
Axillary region (invasive metastasis, abscess incisions)
Thigh (split thickness skin graft donor sites, burns, trauma)
Thorax (mammory carcinoma, drainage, burns)
Sacral region – pressure ulcers
| | | | | |
| --- | --- | --- | --- | --- |
| Code | Size | Pack Qty | PIP Code | NHS SC Code |
| 73234-00 | 5cm x 5cm | 1 x 5 | 379-5846 | EJE153 |
| 73234-01 | 7.5cm x 7.5cm | 1 x 5 | 372-2212 | EME106 |
| 73234-02 | 10cm x 10cm | 1 x 5 | 372-2220 | EME107 |
| 73234-03 | 20cm x 10cm | 1 x 5 | 372-2238 | EME108 |
| 73234-04 | 20cm x 20cm | 1 x 5 | 372-2246 | EME110 |
| 73234-05 | 30cm x 20cm | 1 x 5 | 372-2253 | EME112 |
| 73240-01 | 45cm x 25cm | 1 x 5 | 388-3402 | EME105 |