Product
Indications
Features & Benefits
Ordering Information
Styles
Lower Limb Styles
Lower Limb Options
Upper Limb Styles
Upper Limb Options
Patient
Clinical
Options
Application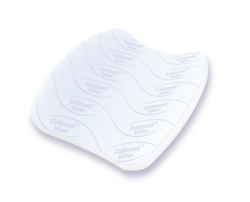 Foam dressings - redesigned to work for you
Creating the right team starts with careful selection of team members. The right combination of specially designed materials makes Cutimed Siltec more than the sum of its parts, delivering the performance you expect from an exceptional foam dressing.
Cutimed Siltec products are designed for atraumatic wound dressing changes with minimized pain and to protect against odour. Additionally, the border products are fully water resistant, allowing your patient to shower between dressing changes.
Dressings have to be unique, usually irregular shapes of wounds, conform to the body contours, and accommodate body movement. At the same time, the dressing has to maintain intimate contact with the wound bed to create an optimal environment for the healing process. Cutimed Siltec does that comfortably.
Highly breathable coloured polyurethane film (with printed branding) giving a dynamic MVTR
Highly absorbent open-porous polyurethane foam for excellent fluid absorbency

Safe fluid handling
Absorption of viscous exudate

Super-absorbent hotmelt stripes for additional absorption and retention capacity
Perforated silicone layer, with either low tack (Cutimed Siltec, Cutimed Siltec L), or soft tack (Cutimed Siltec PLUS), or soft tack in a border dressing (Cutimed Siltec B)
Protection of the wound edge with minimised risk of maceration
Minimal risk of tissue ingrowth
Conformable application
Can be cut-to-size