Product
Indications
Features & Benefits
Ordering Information
Styles
Lower Limb Styles
Lower Limb Options
Upper Limb Styles
Upper Limb Options
Patient
Clinical
Options
Application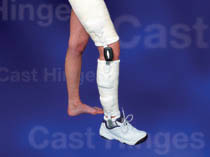 Custom knee, hip and elbow cast brace hinges
The Masterhinge Locking Knee Hinge is excellent for functional cast bracing. The bi-pivotal mechanism accommodates the natural motion of the knee and can be used in the treatment of fractures and ligament injuries. The hinge mechanism can be set for any range of motion or locked at any desired knee flexion angle.
Excellent quality and durability
Low profile, lightweight
Splined head plates
Hyperextension stops
Full to limited range of motion
Range of sizes
Alignment jig is available to ensure optimum fit
Bi-pivotal mechanism
The Masterhinge Knee Hinge uses a bi-pivotal mechanism which provides controlled movement at the joint allowing natural motion of the knee. The hinge mechanism also provides a range of motion stops. The mechanism has adjustors which act as continuous variable limiters or flexion and extension during the healing process.
Bi-pivotal mechanism
Accommodates the natural movement of the knee
Unique splined headplates
Engages each of the four ROM points so that they cannot be dropped accidently
Available in different offsets
Ensures lateral and medial hinges are aligned with optimal condylar clearance
| | | | | |
| --- | --- | --- | --- | --- |
| Code | Description | Size | Pack Qty | NHS SC code |
| 72299-00 | Knee - Bipivotal locking cast hinge | Universal offset | 1 pair | GRS179 |
| 72299-01 | Knee - Bipivotal locking cast hinge | Medium offset right | 1 pair | GRS181 |
| 72299-02 | Knee - Bipivotal locking cast hinge | Medium offset left | 1 pair | GRS182 |
| 72299-03 | Knee - Bipivotal locking cast hinge | Large offset right | 1 pair | GRS183 |
| 72299-04 | Knee - Bipivotal locking cast hinge | Large offset left | 1 pair | GRS184 |
| 72299-05 | Elbow / knee - Bipivotal locking cast hinge | Knee / elbow paediatric | 1 pair | GRS185 |
| 72297-14 | Custom Hip Hinge | Short | 1 each | - |
| 72297-15 | Custom Hip Hinge | Long | 1 each | - |
| 72297-16 | Custom Hip Hinge | Extra Long | 1 each | - |
| 72296-23 | Alignment Jig | - | 1 Jig | - |